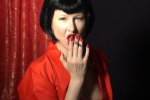 Smoking Geisha Makes You Her Ashtray
2007-09-10
320x240 - 6min - 16.5 MB - $6.00
Teasing you makes it easy to tie you up and use you as my ashtray. Collecting my burnt ashes with your tongue, watching me seductively smoke and taunt you with what's under my kimono. Blowing smoke in your face as I giggle and smile. Puffing on a ciggy and letting it roll out of my round mouth. You end up being rewarded for being a good ashtray with a smokey nipple and two tiny breasts in your face. Breathe in my smoke and watch this video now!

Buy Now $6.00