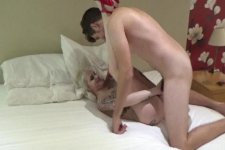 Boyfriend brind BabyJ to orgasm
2022-03-11
1280x720 - 5min - 97.7 MB - $4.95
BabyJ is on the bed playing with a dildo sliding it deep into her young wet cunt. While wearing high-heeled red shoes, when her boyfriend walks in. He pulls her over and lifts her legs high into the air and tries to slide his cock in. His cock is to large for her tight cunt so he starts to finger and suck on her cunt. Soon he brings her to orgasm. Now he uses her dildo to bring her to another orgasm.

Buy Now $4.95