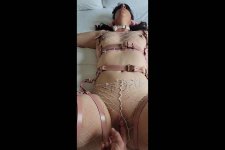 Tied to the bed and all holes used
2021-08-06
1920x1080 - 16min - 506.6 MB - $16.00
I had a fan want to make a custom video to fulfil his fantasy. I dressed up in a leather harness he bought for me, and had a girlfriend tie me to the bed and blindfold me. I even wore my favorite buttplug. He proceeded to finger me until I was soaked, then fuck my mouth. I came once while he was banging my pussy, but the hardest orgasms were when he was slamming my ass! I came twice and even squirted! He creampied me in the backdoor, and then straight to my mouth for a cleanup to swallow any left over drop. I actually got him hard again for another round from behind, and he came a second time for me in my ass. This was by far the hottest sex I have ever had, and 3 of the best orgasms I have ever experienced!

Buy Now $16.00