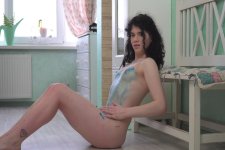 I like to draw and play with my pussy
2021-06-07
1920x1080 - 29min - 446.0 MB - $20.00
I was at home. I was bored, I wanted to entertain myself somehow. I took off my green light tank top and short denim shorts, then started rubbing my body with paint and then playing with my pussy.

Buy Now $20.00