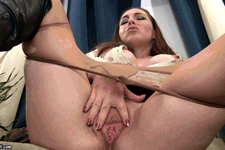 Step Mother Makes You Eat Her Pussy
2020-09-28
1920x1080 - 13min - 482.8 MB - $13.99
Hello step son. I've been meaning to talk to you about something but I had to leave for work early this morning and you were still napping. See, I know you've been stealing my worn pantyhose and probably my panties as well. My favorite pair of suntan hose have been missing for a week now and when I was putting your laundry away last night I found them in your sock drawer. I found my worn pantyhose in your drawer! Your step-father is going to be so pissed when he find outs.... What? You don't want me to tell him? Hmm... well, if you really want me to keep your secret then you'll have to do something for me first. I know just the thing... I want you to get over here and get down on your knees and eat my pussy. That's right, you are going to lap the sweet pussy juices from your step mother's slit. Get to it, eat that pussy... it's been a while since my sweet box has been properly licked. Mmmm yes... oh god, that was incredible. Now you got me so worked up I just have to have some of that dick inside of me. Stand up and slide your cock in my pussy... you are going to fuck your step mother like she hasn't been fucked in a very long time!

Buy Now $13.99