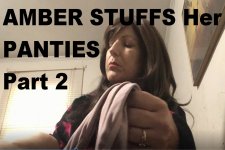 Amber Stuffs Her Panties - Part 2
2020-02-25
1280x720 - 9min - 230.7 MB - $10.00
This video is just a few second shy of 13 minutes! Watch close-up as Amber is still working on stuffing her whole pair of bikini panties into her puffy pussy. Will she get the whole thing inside? Watch and see!

Buy Now $10.00