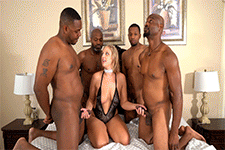 My First Big Black Cock Gangbang
2019-12-20
1920x1080 - 23min - 2420.7 MB - $19.99
Up to this point, I have never had a gangbang let alone an all big black cock gangbang! But a trip to Florida this Summer changed all of that. I had corresponded with Mr. Nuttz and told me he could get his group of guys, Bull Royalty, assembled for my first ever. I was a bit nervous at first but when all the guys were there, naked in front of me, with all those yummy cocks, I was ready to fuck the shit out those guys. I mean I had a cock in my mouth, a cock in my pussy, cocks in both hands...this was amazing and the guys rotated, keeping my hungry pussy stuffed full of big black cock and my mouth was kept busy as well. I know I waited a long time for my first gangbang but I must be honest...I will definitely put more gangbangs on my schedule throughout the year...a girl can't go wrong when she has multiple guys keeping her holes satisfied. Hey Mr. Nuttz, can I get on your gangbang schedule for next Spring? Runtime 23 Minutes.!

Buy Now $19.99