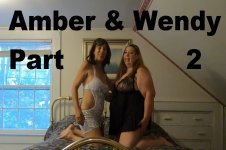 Amber and Wendy Part 2
2019-10-23
1920x1080 - 3min - 256.1 MB - $4.99
In part two of filming this photo update, Wendy and Amber bring out their big beautiful breasts! There is plenty of licking, kissing, fondling, and laughing during this video. The girls are obviously really enjoying each other. I hope you enjoy it that much, too!

Buy Now $4.99