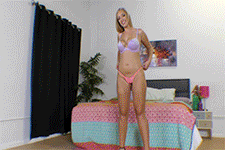 I Fucked A Fan For His Birthday
2019-10-16
1920x1080 - 25min - 2164.7 MB - $19.99
I just love getting emails from fans sharing their fantasies with me. It just so happens that a fan told me he was in town for a few days and wanted to know if I would meet him for a drink. We talked a bit more and when he told me it was his birthday weekend I just had to oblige. We met at a bar, knocked back a few and the next thing you know I was in My Birthday suit sucking his cock. He has a beautiful cock and sucking it made me so wet. I just had to have it inside me so I got off my knees and impaled myself on his cock...balls deep. After a short while we moved over to the bed and fucked some more until he came all over my face. I just love pleasing my fans, now whose next?. Runtime 25 Minutes.

Buy Now $19.99