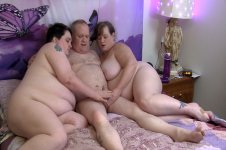 Sally, Kaylee & Mr. Scotti
2019-10-16
1920x1080 - 18min - 1443.3 MB - $20.00
There are advantages to being in a Poly relationship! I can have sex with Cum Drop Sally (SC1) or Scotti whenever I want. I can also have sex with both at the same time! In this video we all play together; sucking, eating, fingering and fucking and Mr. Scotti gives Kaylee nice cream pie that you get to see!

Buy Now $20.00