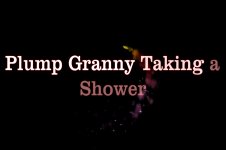 Plump Granny Taking a Shower
2019-09-25
1920x1080 - 10min - 579.8 MB - $10.00
This is my first juicy HD video that I have put up for sale on Southern Charms. Yay! Here is to many, many more! In this HD video I soap up my ginormous naughty bits with soapy bubbles while telling you some sexy stuff. If you are a fan of BBW's or perhaps you are my fan, then you will be pleased to have this video clip in your collection. This video is only offered here on SC. Please enjoy!

Buy Now $10.00