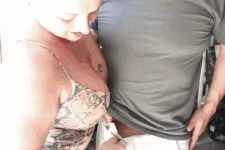 BLOWING THE MECHANIC
2019-09-13
1920x1080 - 6min - 413.3 MB - $6.00
Ooooh - I love a guy with dirty hands - especially when he's all sweaty - and even better when he's a mechanic! What better way to drain his sump other than blowing him - see photo update #170 - and having him cum all over my face? This is every guy's dream - you're working on a bike and this brunette arrives - in HD - and gives you a blowjob...

Buy Now $6.00