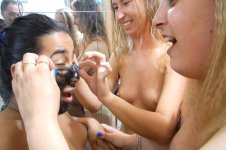 Black mask that make you suffer. (EXCLUSIVE)
2019-07-15
2000x2000 - 8min - 687.0 MB - $5.00
Zeya found a black face mask in my bathroom and immediately smeared it on herself. Then me and Annabet together tried to tear off this mask from the face of our girlfriend, and she was very funny moaning at that time. Want to see how it all ended?

Buy Now $5.00