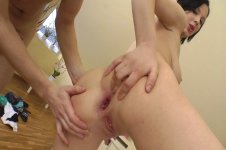 Hot anal sex with my lover
2018-11-09
1920x1080 - 24min - 41.36.3 MB - $24.00
I love hard anal sex. I often meet with my lover and having hard time for all my holes. He has a huge dick. He is perfect, I love to swallow him completely, he opens my throat and penetrates deep into my mouth. I choke, but I love to do it again and again ... Especially for you, I asked him to cum on my face ... Mmmm..... I love the taste of his sperm..

Buy Now $24.00