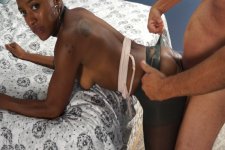 Hot Pantyhose Ripping Sex 02
2018-09-14
1920x1080 - 10min - 709.1 MB - $9.99
I start out teasing and showing off my sexy support pantyhose. I then invite in my friend who starts ripping the pantyhose as I start to suck his cock. Once steel hard he tells me to rip them open so he can access my pussy. He starts fucking me and ripping them more as I am enjoying the ripping and fucking. Finally he bends me over and fucks me until he comes on my pussy.

Buy Now $9.99