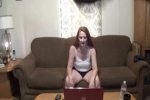 Webcamming With a Member of My Website
2016-08-18
720x480 - 8min - 184.5 MB - $8.00
A long time member of my website asked me to webcam with him. I couldnt resist ! He got me to climax ! Then watch and listen as I talk him into shooting a nice BIG load of cum for me !!

Buy Now $8.00