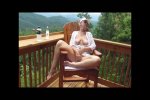 CUM PLAY WITH JUST ME
2015-09-16
640x480 - 10min - 97.3 MB - $20.00
How about a baby soft pussy so up close and personal that you can almost taste it. Nipples that are so hard that the thought of you sucking, biting and playing with them drives me crazy. I can't believe how hard it is for me to describe this video to you without making my panties so wet with deliciousness that I have already orgasmed a couple of times just coming up with a description that will make you want to come and play. So what do say? Are you up to it? Waiting with licks and kisses for...Just You!

Buy Now $20.00