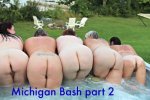 Michigan Bash - Hot Tub Frolick part 2
2015-09-09
1920x1080 - 12min - 587.9 MB - $12.00
The hotness continues at the Michigan Bash. My very hot and sexy Southern Charm friends and I got carried away as we were sucking and playing with one another right on the lake front. Cum watch as Amethyst SC3, Melody SC1, Playful Cougar SC4 and Tabethia SC2 and myself enjoy some wonderful girl/girl action. The stimulating jets and probing fingers in eager pussies made this time pleasure and desire all in one. It was such fun licking and tasting each other...so much so that you may just want to jump in and join us.

Buy Now $12.00