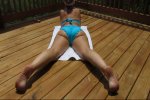 MY FIRST VOYEUR VIDEO OF JUST ME
2015-07-09
640x480 - 10min - 117.6 MB - $20.00
Have you ever wondered what it would be like to watch me make myself cum outside in the great outdoors? I thought Hubby was in town picking up some groceries so I thought I would get a little sun. It is so hot outside and all I have on is a tiny little bikini, but not for long. Watch me peel it off to expose my hungry creamy pussy and perky nipples. My favourite dildo and a bottle of ice water is all that's needed for this steaming hot and horny pussy of mine. The closeups of my pussy will drive you crazy and my moaning and potty mouth will too! Do I have to say more? Here's your chance for a sneaky, secret, naughty, steaming hot peek of...JUST ME! PS. The neighbour loved it!

Buy Now $20.00