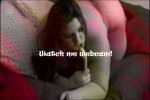 Bella Bendz in Watch Me Webcam!
2015-03-12
854x480 - 5min - 113.7 MB - $5.00
I'm webcamming, showing off my sexy ass for my fans and in you walk in. It's ok, watch me shake my fat ass and play with myself. I don't mind. I want you to see what I do for the camera!

Buy Now $5.00