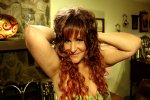 HL On the Leather Recliner
2014-06-19
640x480 - 15min - 198.2 MB - $15.00
This video has everything that I've had requested for a solo video. I quit smoking real cigarettes since January, so You'll see Me Smoking My new Hookah E-Cigarette. You'll also see Me showing off My Tits, Feet, Soft Belly, Camel Toe and Lastly My Big Round Ass. I Love to lay Naked on My Leather Recliner and OH how it feels on My Skin, it really gets My Juices Flowing. Watch as I take out My Black Vibrator and Fuck My Phat Pussy with My Legs spread wide for You to enjoy. I'll talk to You while I'm Masturbating and We can CUM Together at the end. This Video Contains Audio.

Buy Now $15.00