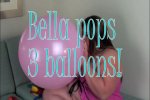 Bella Pops 3 Balloons
2013-05-03
960x544 - 9min - 187.9 MB - $9.00
Bella was sent a bunch of balloons and wanted to have some fun with them. Dressed in some sexy lingerie she blows up 3 big balloons and bounces up and down on them, squashes them and even blows one to pop! If you are a looner and love to see hot girls play with big balloons you'll love this video!

Buy Now $9.00