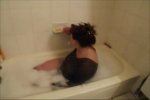 An Awesome Big Cock Dream
2013-03-15
320x240 - 10min - 80.6 MB - $5.00
Aaralynn had a long day at work and realized that she was entitled to some much needed down time so she decided to take a long luxuriuos bubble bath. While she is loungeing in the tub she drifts off to sleep. In her dream state she sees an awesome man standing at her sink. He has such an INREDIBLE BIG DICK. She gets out of the tub and starts to SUCK that INCREDIBLE DICK.Slapping it accoss her face getting it nice and HARD.Lots of DIRTY TALKING as she BEGS HIM FOR THAT BBC TO FUCK HER BAREBACK. She STRADDLES the TOILET and he FINGER FUCKS HER to an AWESOME ORGASM.Her BIG PHAT ASS is WIGGLING.You hear THAT BIG PHAT ASS SLAPPING ON THAT BIG BLACK COCK.You HEAR HOW WET THAT PUSSY IS. Her ASS IS JUMPING UP AND DOWN ON THAT BBC til it CUMMS all over that BIG PHAT WHITE ASS !!!!!!Then Aaralynn LICKS THAT BBC CLEAN. WHAT A FUCKING DREAM !!!!!!

Buy Now $5.00