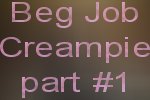 Beg Job Creampie part #1
2012-12-19
640x480 - 11min - 581.9 MB - $5.50
AARALYNN JEWEL RETURNS TO VIDEO. This is her first NEW video in almost two years. And IT IS A MUST SEE !!!!! Aaralynn was approached by a long time fan(COREY) to do a video. She resisted him for a long time. When they finally met she could not resist his charms. Watch as she can not keep her hands or her mouth off his BBC. This is his first time on video !!! WOW what an AWESOME COCK !!! She gives him a BEG JOB to remember. The whole time BEGGING him to FUCK HER PUSSY. This is ONE HOT VIDEO you will not want to miss. Not only does she BEG for his BBC. But, she has MULTIPLE ORGASMS while she is PLEASING him. You better have a nice big towel on hand to catch your enthusiasm. YOU WON"T WANT TO MISS PART TWO. When Corey FUCKS her PUSSY good and HARD not to mention BAREBACK.... WHAT A WAY TO RETURN TO VIDEO. No music just the sounds of  SUCKING, MOANING and PURE DELIGHT ENJOY !!!! A real AMATUER VIDEO...

Buy Now $5.50