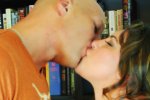 Christian XXX fucks Bella Part 2
2012-12-10
640x480 - 11min - 85.7 MB - $11.00
Here in the second part of Christian XXX fucking me you get to see me take his big cock in my fat pussy while my fat ass bounces up and down and even see me squirt all over his cock! Then watch as I get his hot sticky cum all over my pretty mouth. Actual run time is 11 min 40 sec.

Buy Now $11.00