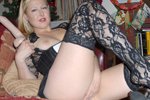 Leather Corset, Lace Stockings, and Heel Dangle Ge
2012-02-22
640x480 - 5min - 86.5 MB - $5.00
Leather corset grips her at the waist. Black lace stockings and high heels spread wide. There's a long dong in her hand and a smile on her face. Watch her pussy spread and fingered. Her tiny tits peek through the sheer black lace, bouncing over the tight leather corset. Little pink nipples hardening as her cunt swells in excitement. And her open hole gets stuffed with dildo. Penetrated repeatedly with the cock, dripping wet pussy sucking at it. Creaming all over the dildo with sole of foot facing you as you watch it fuck her pussy. Red painted lips round and moaning in pleasure. Bent over with her ass cheeks spread, taking it from behind. Black lace stockings bent on the leather couch as the dick slides deeper. Fucking her doggy until her brown eye winks in orgasm and her high heel falls off!

Buy Now $5.00