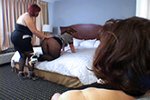 My Mistress Gave Me A Birthday Surprise
2011-08-08
640x480 - 9min - 268.3 MB - $9.00
My Mistress Gave Me A Birthday Surprise - For those of you who don't know I am a submissive and my Mistress (Mistress Trysta, aka Sammie SC2) and I are planning to spend the evening together having some fun becuase it is my birthday. I am in the submissive position waiting by the phone when Mistress Tyista calls and instructs me to wait in the bedroom on my hands and knees until she returns from an evening of partying and dancing. While out at a club Mistress Trista runs into The Goddess Ace of Hearts SC3 and informs her that she has a submissive (Aaralynn) waiting for her at home and that she would like Ace of Hearts to be her birthday present. Ace of Hearts accepts and relishes the thought of DOMINATING a submissive with the help of Mistress Trysta. When they return home I am WET and READY to PLAY !!!! You will not believe what happens. But, I will tell you that Ace of Hearts and Mistress Trysta have me DRIPPING WET and MOANING as they both FLOG and spank me.! In part two, Mistress Trysta and Ace of Hearts will use strap-on cocks on me...I can't wait...YUMMY! Runtime 9 minutes 59 seconds.

Buy Now $9.00