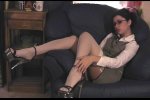 Sexy Secretary Gets NAUGHTY
2010-07-08
1280x720 - 7min - 400.4 MB - $4.99
Who can call me an ordinary secretary? Nobody, cause I'm the ideal of naughty office girl, very skillful and very playful, pussy gets drenched just from thoughts about sex at work! oh Oh OHHH!!! I love my job and my B==ig Toy!

Buy Now $4.99