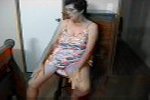 Just Need A Good Cum
2009-10-14
480x360 - 9min - 70.6 MB - $4.99
The title pretty well says it all. I had a terrible day. The dog got loose, the grandchildren skipped school. To top it off, had a big argument with my husband. Now that the day is over, the night is MINE. I just needed a real good cum to make everything right. You probably know exactly what I mean, don't you? Just watch this short video and you will see that it all works out for the good in the end.

Buy Now $4.99