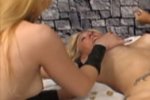 Tied, Tickled And Fucked 3 Women Dildo Play
2009-06-05
320x240 - 14min - 49.4 MB - $14.00
Eva and Porche tie up Aarielle, strip her of her panties, and then tickle her silly. We whip her with a beaver fur flogger and tickle her to extreme giggle fests! Then, they whip out a double ended dildo and Eva fucks Aarielle and Porche as she plays with their clits and gets stimulated by their fingers! Watch as they all three have fun in Eva's dungeon away from home! Lots of clit sucking, fingering, and dildo play with tons of Bondage tickling, etc.

Buy Now $14.00