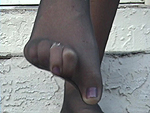 Black Pantyhose Feet
2005-12-05
640X480 - 6min - 102.2 MB - $4.99
Black Slick Pantyhose encasing my lovely feet and toes, I just couldn't resist and had to show you. Come see my 3 silver toe rings peek and shine from underneath my black pantyhose. Watch as I slip off my white heels and show you my feet, toes, soles, heels. See my double jointed toe move from side to side. No sound- Concentrate on my cute feet that you'd love to worship!

Buy Now $4.99