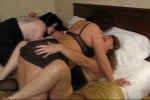 Jeri Does An International Lesbian Orgy (Part 2)
2008-10-31
640x480 - 7min - 53.9 MB - $4.99
Join Nanda, Draven, Angel Hell and me as we wantonly devour each other's bodies. We all gang up on Angel to make sure she cums on camera... she's a squirter so you don't want to miss this shoot. It's a "wet finish" to our international lesbian orgy. This is part two of a two part video.

Buy Now $4.99