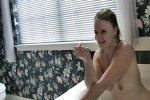 Jeri Does A Blow Job
2008-03-03
720x480 - 7min - 106.1 MB - $4.99
I was having some fun in my tub and woke Mr. Happy up. I didn't even get out the tub. I just started sucking and slurping his cock until he was nice and hard. We then took our playfulness over to the bed for the finale as I continued to give him a very juicy blow job. I finished him off with a vigorous hand job as he explodes into my face squirting everywhere! I rub his cum onto my beasts as we collapse into the bed.

Buy Now $4.99