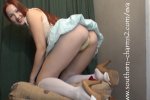 Upskirt Panty Tease Leads To Toy Play
2008-01-07
320x240 - 6min - 11.8 MB - $6.00
Upskirt panty tease leads to dildo toy masturbation with Eva. Rubbing her nub through cum soaked panties before pushing them aside and pounding her slick slit, and riding her long glass toy into multiple orgasms and pleasure. Her cute toes wiggling in stockings and that tight bum bouncing up and down on that rod.

Buy Now $6.00