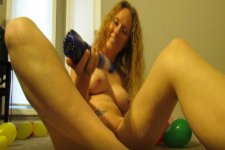 Balloon Masturbation
2017-12-12
1920x1080 - 4min - 671.8 MB - $4.99
To keep the fun going with Update 123, I decided to do a masturbation video with those balloons around me!! It's the first time I've masturbated like that with balloons around me!! And in some weird way, I kind of enjoyed it!! Lol!

Buy Now $4.99