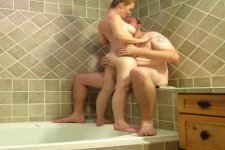 Jacuzzi Bathtub Sex with FACIAL!!
2017-04-21
1920x1080 - 5min - 461.4 MB - $5.00
This video goes along with an update I did for my site! It's not uploaded yet, but should be update 105 or 106 if you want to check it out! So about the video!! Hubby tends to have a hard time taking pictures of me and not wanting to fuck me!! And this time was no different!! We're doing an update in a jucuzzi tub at the house we rented on vacation! I've always wanted a Jacuzzi tub, so this was great for me to relax in! After taking a bunch of pics, hubby sets the camera down and hits the record button! He then gets in the tub and has me get up on my knees and such his cock! I must've been sucking him good since he all of a sudden had me get up and turn around to fuck me doggy style!! We do it doggy style in multiple positions standing till he gets up on the seat and I start fucking him with my back to him!! This position was amazing and it got me off quickly!!! It didn't take long after that for hubby to shoot his hot load all over my face!!! It made for a great ending to a hot session taking a picture set and video for you!!!

Buy Now $5.00