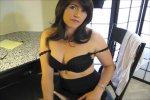 Julie's Sexy Office Strip Part 1
2012-08-29
640x480 - 6min - 222.6 MB - $6.00
I'm hard at work in my office when I decide I need to take a break and take off some of my restrictive clothing! Watch me in part one of a three part series as I slowly and seductively tease and start to strip out of my sexy business attire. (No audio, only music).

Buy Now $6.00